Online Medical Health Consultations
Finding time to obtain the medical care you need is often easier said than done. It doesn't have to be that way, however. Thanks to modern technology, you can now talk to a doctor online, and get the medical advice you need from the comfort of your own home.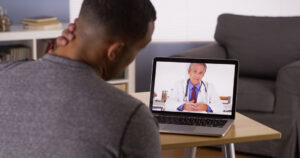 The Take CHARGE Team offers online health consultations for all sorts of medical conditions, including but not limited to heart disease, diabetes, stroke complications, cancer, infectious disease issues and respiratory disorders. Although we're located in Michigan, we can meet with anyone virtually.
What to Expect From Your Virtual Health Consultation
We'll listen to get a clear understanding of your health concerns.
We'll review any medical records you provide us (including laboratory, x-ray reports and ultrasound reports) to better understand your condition. If necessary, we'll even talk with your current healthcare providers on your behalf (and with your permission).
We'll help you understand what is going on with your body.
Based on the information you provide; we'll generate a written personalized game plan outlining recommendations that can be shared with your health care providers.
We will provide you with useful health education materials that will help with your care.
Our experts understand the ordeals you're going through. We have the expertise and experience to help you improve your overall wellness. Take a look at our team's credentials here and here.
Best of all, we offer a FREE 30-minute initial consultation. From there, we can design a personalized game plan to improve your health and get you back to feeling like yourself once again.
Contact us today to schedule your FREE initial consultation.