I've often been asked by people what they should do after they have had a specific medical procedure. This surprises me since such "Discharge Instructions" should have been given and explained to them. But apparently, this did not happen.
Why Discharge Instructions are important
After you have had any medical procedure or been hospitalized, and are being sent home, your Discharge Instructions are very important because:
They help keep you safe and healthy at home after your procedure with no 24-hour medical care.
They contain important instructions on several things such as:

Most importantly, what worrisome symptoms and signs you should look out for
The number to call to reach a health professional at the clinic/hospital if you are concerned.
What to expect after a procedure and activities you should or should not do for certain periods of time.
What medications you can and should not take (e.g., for pain relief).
How to keep any incisions clean and avoid infections.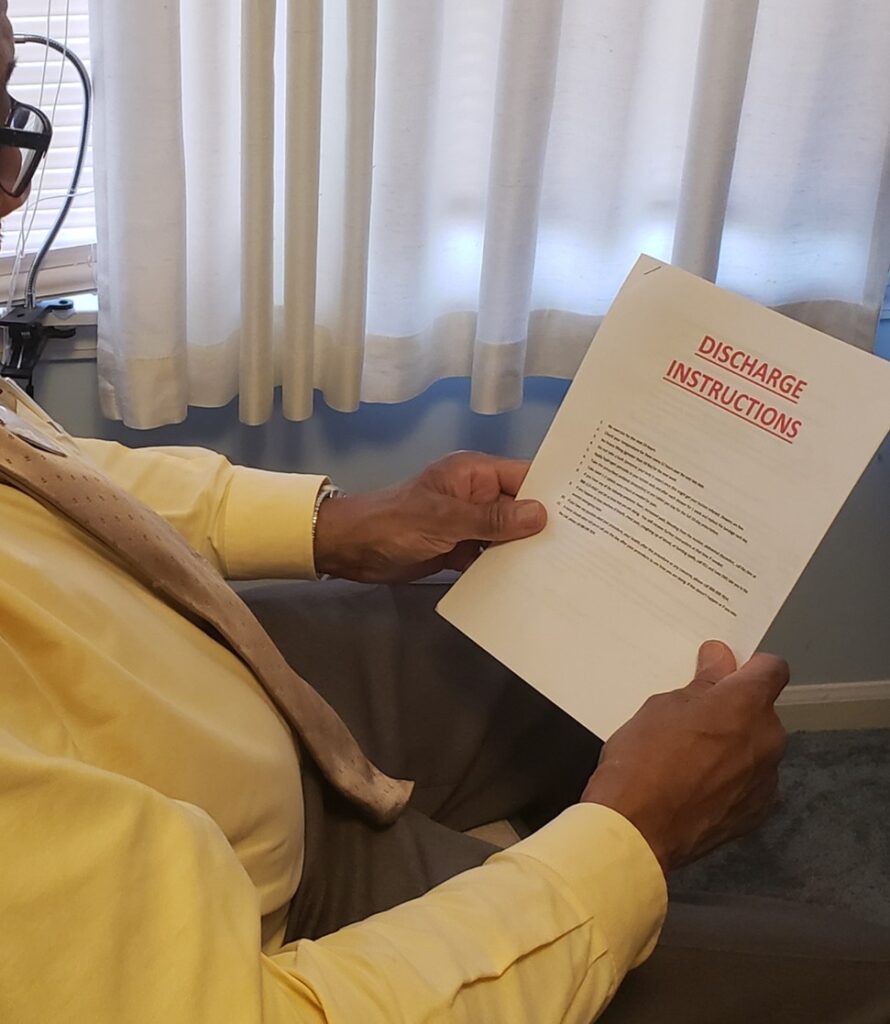 Things to remember about your Discharge Instructions
Before leaving the hospital or clinic, I recommend the following:
Make sure you receive your Discharge Instructions while you are still in the clinic/hospital.
Read through all these instructions and make sure you understand them. Ideally, a healthcare provider should sit down with you in the clinic/hospital and go over these instructions with you and answer any questions.
Discharge Instructions are different from a Discharge Summary which simply summarizes the procedure you underwent and what the findings were. You want both.  The Instructions tell you what to do. The different Summary may be helpful to explain to family members what happened or if you must go to a different health facility not connected with where your procedure was done (e.g., urgent care or an emergency room) with a problem after your procedure. These other facilities may not have ready access to your medical records.
If the Instructions mention medications you should take, make sure you have these medications or prescriptions to get these medications before you leave the clinic/hospital.
Make sure you also have any needed equipment (e.g., a walker, or a deep breathing exercise monitor to help prevent pneumonia).
If your work requires a doctor's note, make sure you have this before leaving.
Make sure there is a listed phone number on the Instructions that you can call if you have concerns or get into a problem.
If for some reason you leave the clinic/hospital without these instructions, call them back and either have them send them via email to you or have someone go and pick them up for you.
Make sure a family member or caretaker also has a copy of these Discharge Instructions in case you get incapacitated.
Below is an example of what Discharge Instructions should contain.
DISCHARGE INSTRUCTIONS (SAMPLE)
No exercise for the next 24 hours.
Check your temperature for fever every 12 hours over the next two days.
No heavy lifting (greater than 10 lbs.) for the next week.
Do not take a bath (immerse your body in water) since this might get your incision infected. Showers are fine.
Apply hydrogen peroxide to your incision daily and after each shower for 1 week and replace the bandage each day.
Take the prescribed antibiotic (doxycycline) at one tablet per day for the full 10-day prescription.
Take Advil 1-2 tablets every 4 hours as needed for pain.
If you have any of the following symptoms: fever, increased pain, bleeding from the incision, abdominal discomfort,  call the clinic at 888-123-4567 and let us know how you are doing.  You will receive further instructions at that time if needed.
If you happen to have shortness of breath, chest pain, coughing up of blood, of fainting spells, call 911 and have EMS take you to the nearest emergency room.
If you have any questions about your procedure, your health after this procedure or any concerns, please call 888-098-7654.
A nurse should either visit you or call you the day after your procedure to see how you are doing. If this doesn't happen or if you miss the call, please call 888-098-7654.